"My one regret in life is that I am not someone else. " - Woody Allen

Woody Allen's Other Works
Books, essays, scripts, plays

News & Website Updates





Shop for juicers at
BetterJuice.Com
Contents
Trivia from
Zelig
The word zelig is taken from the German word, selig, meaning blessed.
Mia Farrow's character, Dr. Eudora Fletcher's, name was taken from one of Woody's old school Headmistresses.
The original title for the film was to be The Cat's Pyjamas.
Mae Questel, the voice of Betty Boop from 1931 to 1989 is the voice of Helen Kane singing "Chameleon Days".
Woody Allen originally wanted Greta Garbo to be one of the people interviewed.
Because it took so long to match Woody Allen to the old newsreel footage, Allen managed to film and complete A Midsummer Night's Sex Comedy and Broadway Danny Rose, in the time it took to complete this. Woody Allen later claimed that there is no mechanical way to age film, so they would either scrunch the negative up, or stamp on it.
To create authenticity, the production used actual lenses, cameras and sound equipment from the 1920s, and used the exact same lighting that would have been done. In addition, Gordon Willis took the exposed negatives to the shower, and stomped on them.
Factual Errors: On the Nazi film reel, the announcer calls Zelig a "schweinhund" - real Germans in the 1940's never called anyone that; the proper term is "schwein". "Schweinhund" was invented in American World War II movies at the time.
Academy Awards, USA
Year 1984
Nominated Oscar
Best Cinematography
Gordon Willis
Nominated Best Costume Design
Santo Loquasto
BAFTA Awards
Year 1984
Nominated BAFTA Film Award
Best Cinematography
Gordon Willis
Nominated Best Editing
Susan E. Morse
Nominated Best Make Up Artist
Fern Buchner John Caglione Jr.
Nominated Best Original Screenplay
Woody Allen
Nominated Best Special Visual Effects
Gordon Willis, Joel Hynek, Stuart Robertson, Richard Greenberg
Bodil Awards
Year 1984
Won Bodil
Best Non-European Film (Bedste ikke-europiske film)
Woody Allen (director)
David di Donatello Awards
Year 1984
Won David
Best Foreign Actor (Migliore Attore Straniero)
Woody Allen
Golden Globes, USA
Year 1984
Nominated Golden Globe
Best Motion Picture - Comedy/Musical

Nominated Best Performance by an Actor in a Motion Picture - Comedy/Musical
Woody Allen

New York Film Critics Circle Awards
Year 1983
Won NYFCC Award
Best Cinematographer
Gordon Willis
Venice Film Festival
Year 1983 Won Pasinetti Award Best Film
Woody Allen
Writers Guild of America, USA
Year 1984
Nominated WGA Award (Screen)
Best Comedy Written Directly for the Screen
Woody Allen
Movie Store
Movie Store


Buy The DVD Now - USA



<!A HREF="http://www.amazon.com/exec/obidos/ASIN/6303430546/ref=nosim/texascooking5-20" target="_blank" class="right2">Buy VHS Now - USA


Website Specials


Woody Allen DVD Collections

Woody Allen France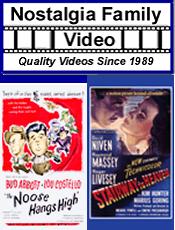 Order a Nostalgia Family Video Catalog from Catalogs.com