Woody Allen's Other Works
Books, essays, scripts, plays

News & Website Updates







Woody Allen Movie Questions?

Woody Allen Movies
Promote Your Page Too
Zelig - 1983
Genre:

Comedy
Run Time: 79 minutes

Film Synopsis


When released, the noteworthy special effects probably eclipsed the film's story. Over time, the film's subtle messages about fascism and tyranny have become more appreciated.

Everyman Leonard Zelig is literally capable of being any and every man, a human vessel who embodies our sociological urge to conform. He comes to the attention of the public through the media when he is sighted at affluent social gatherings, appearing to some as one man and moments later, as another. In fact, his ability to become everything to everybody makes him a blockbuster celebrity.

Zelig's metamorphosis is material; he physically takes on the ethnic characteristics or manifests the weight proportions of those around him, complete with spontaneous facial hair and costume. The gimmick-crazed public makes him an instant celebrity, and his popularity soars through merchandising tie-ins. A cavalcade of dances, songs and games are created around his phenomenon.

Dr. Eudora Fletcher (Mia Farrow) is certain he is the victim of a psychological malady and takes charge of his case when he is brought to Manhattan Hospital for evaluation. Zelig slips away to Europe for awhile, where he finds home in Nazi Germany amidst Adolph Hitler. Fletcher eventually gets him back in her custody and uses early hypnotherapy techniques to breakthrough to the "real" man inside. In the course of the film, our hero is celebrated, exploited, lionized and demonized in a sensation-hungry world.

Main Cast:

Woody Allen .... Leonard Zelig
Mia Farrow .... Dr. Eudora Fletcher
John Buckwalter .... Dr. Sindell
Marvin Chatinover .... Glandurar Diagnosis
Stanley Swerdlow .... Mexican Food Doctor
Paul Nevens .... Dr. Birsky
Howard Erskine .... Hypodermic Doctor
Ralph Bell .... Other Doctor
Richard Whiting .... Other Doctor
Will Hussong .... Other Doctor
Robert Iglesia .... Man in Barber Chair
Eli Resnick .... Man in Park
Edward McPhillips .... Scotsman
Gale Hansen .... Freshman #1
Michael Jeter .... Freshman #2 (as Michael Jeeter)
Movie Remarks

The thinking person's Forrest Gump, Woody Allen's 1983 Zelig is a funny, atmospheric mock-documentary about the collision of one man's manifest neuroses colliding with key moments in 20th-century history. Allen plays the title character, a self-effacing, timorous fellow with such a porous personality that he physically becomes a reflection of whoever he is with.

Complex and painstaking, the film's pre-Gump special effects manage to place Allen, buried under a series of makeup and prosthetic guises, in a number of scenes along with Adolf Hitler at a Nazi rally, a pope at the Vatican, and famous guests at a garden party hosted by F. Scott Fitzgerald. Similar in tone and satire to some of Allen's short, comic pieces published in The New Yorker magazine, Zelig is a one-note movie that takes its delicious time establishing the fullness of its central joke. It's well worth the wait.

-Tom Keogh from Amazon.com

Many fans already know that Zelig was originally going to be called The Cat's Pajamas. But did you also know....

Gross:

$11.8m
Release Date: July 15, 1983 (USA) March 16, 1983 (Sweeden), February 3, 1984 (Finland)




Movie Store


Buy The DVD Now - USA



<!A HREF="http://www.amazon.com/exec/obidos/ASIN/6303430546/ref=nosim/texascooking5-20" target="_blank" class="right2" rel="nofollow">Buy VHS Now - USA


Soundtrack Information
Song titles and information on music from the film Zelig

Posters / Collectibles
Posters from different countries. Promotional.


Website Specials


Woody Allen DVD Collections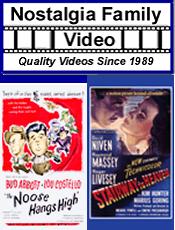 Order a Nostalgia Family Video Catalog from Catalogs.com