"My one regret in life is that I am not someone else. " - Woody Allen

Woody Allen's Other Works
Books, essays, scripts, plays

News & Website Updates





Shop for juicers at
BetterJuice.Com
Contents
Trivia from
Stardust Memories
Woody Allen has said many times that, along with The Purple Rose of Cairo, this is the one Allen film he calls his personal favorite.
An homage to Federico Fellini's film 8 ½ (1963). Aspects of the homage are the black and white cinematography, the opening scene of Woody on a train, the seaside locations, the emphasis on a director hounded by critics and fans, and relationships with multiple women.
The filming locations for Stardust Memories included Asbury Park, New Jersey and Ocean Grove, New Jersey.
Awards and Nominations
Movie Store


Buy The DVD Now - USA


<!A HREF="http://www.amazon.ca/exec/obidos/ASIN/6305327068/ref=nosim/texascooking-20" target="_blank">

Buy VHS Now - USA


Website Specials


Woody Allen DVD Collections

Woody Allen France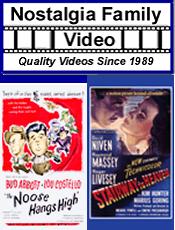 Order a Nostalgia Family Video Catalog from Catalogs.com