Woody Allen's Other Works
Books, essays, scripts, plays

News & Website Updates







Woody Allen Movie Questions?

Woody Allen Movies
Promote Your Page Too
Stardust Memories - 1980
Genre:
Comedy
Run Time:
91 minutes
Film Synopsis

Stardust Memories is considered his "watershead movie." At this point, he clearly annunciates the ideas that he uses for the rest of his films. Here, a reknowned comedy director named Sandy Bates (Woody Allen) is at an emotionally difficult point in his career. He has gained fame for making funny films, however he now wants to make serious films because of all the pain and suffering in the world that he sees around him.
Sandy meets strong resistance from all sides - his producers, his fans and his friends. The film traced his journey to discover what he truly wants in life.
The movie's turning point comes when Bates's maid insists on cooking rabbit for dinner, a creature he absolutely does not want to dine on. She leaves the dead creature on the table, and he looks at it. From that point, the entire film continues inside Bates's head.
Filled with interesting moments, crazy characters and scenes of absurdity, this movie is an offbeat, fascinating film that is defitnately worth seeing. Music fans can enjoy the excellent soundtrack for the movie as well.
Main Cast:

Woody Allen .... Sandy Bates
Charlotte Rampling .... Dorrie
Jessica Harper .... Daisy
Marie-Christine Barrault .... Isobel
Tony Roberts .... Tony
Daniel Stern .... Actor
Amy Wright .... Shelley
Helen Hanft .... Vivian Orkin
John Rothman .... Jack Abel
Anne De Salvo .... Sandy's Sister
Ken Chapin .... Sandy's Father
Leonardo Cimino .... Sandy's Analyst
Eli Mintz .... Old Man
Bob Maroff .... Jerry Abraham
Film Remarks 4.5 out of 5 stars
A Superb Retake on Fellini's 8 1/2
Reviewer:

Donald Liebenson

June 15, 2006
"Doesn't he know he's got the greatest gift anyone can have, the gift of laughter?"
In movie
Stardust Memories
, Woody Allen stars as filmmaker Sandy Bates, who, like John Sullivan in Preston Sturges's Sullivan's Travels, no longer wants to make comedies. As studio executives threaten to wrest control of his latest film, he reluctantly attends a weekend film-culture festival in his honor, where he is besieged by journalists ("I'm doing a piece on the shallow indifference of celebrities"), groupies ("I drove all the way from Bridgeport to make it with you"), and persistent oddballs ("Can I talk to you about my idea I have for a movie? It's a comedy based on the whole Guyana mass suicide"). After the exhilarating
Manhattan
, Stardust Memories was a dramatic departure that threw critics and fans for an outraged loop. But out of all of Allen's films, it is perhaps the one most ripe for rediscovery. It poses the same dilemma Stephen King would later tackle in Misery: What happens when a popular artist is held captive by an adoring audience that doesn't want him to change? The answer may come from an extraterrestrial, who in one of the many fantasy sequences advises the comedian, "You want to do mankind a real service? Tell funnier jokes."
The film is impeccably cast with Charlotte Rampling, Jessica Harper, and Marie-Christine Barrault (of Cousine/Cousine) as the three women in Sandy's life. There are also choice bits by Sharon Stone as a fantasy woman on a train, Daniel Stern as an aspiring actor, Louise Lasser as Sandy's overwhelmed secretary, Laraine Newman as an unimpressed studio executive, and Tony Roberts as Tony Roberts. My own aunt, Victoria Zussin, utters the film's most famous line as the patron who tells Sandy she loves his movies, especially "your early funny ones."
Many fans already know that Star Trek's Brent Spiner has a bit part in this, his first film. But did you also know....
Budget: $10m (USA)

Gross:
$10.4m (USA)
Production Dates:
November, 1979 - March, 1980
Movie Store


Buy The DVD Now - USA


<!A HREF="http://www.amazon.ca/exec/obidos/ASIN/6305327068/ref=nosim/texascooking-20" target="_blank" rel="nofollow">

Buy VHS Now - USA


Soundtrack Information
Song titles and information on music from the film Stardust Memories

Posters / Collectibles
Posters from different countries. Promotional.


Website Specials


Woody Allen DVD Collections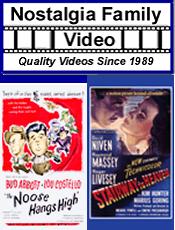 Order a Nostalgia Family Video Catalog from Catalogs.com