Woody Allen's Other Works
Books, essays, scripts, plays

News & Website Updates







Woody Allen Movie Questions?

Woody Allen Movies
Promote Your Page Too
Play It Again, Sam - 1972
Tombe les filles et tais-toi!
Mach's noch einmal, Sam
Genre:
Comedy
Run Time:
85 minutes
Film Remarks:

Allan Felix is a mild mannered film critic (Woody Allen), who is dumped by his wife. His ego is crushed, as he struggles with resurfacing from this humbling and humiliating experience. Felix's hero persona is the tough guy played by Humphrey Bogart in many of his movies, namely Casablanca. The apparition of Bogart shows up throughout the film to give the writer advice. With the encouragement of his two married friends, Dick and Linda Christie (Tony Roberts and Diane Keaton), he tries dating again, with less than satisfactory results, until he relaxes.
Main Cast:

Woody Allen .... Allan Felix
Diane Keaton .... Linda Christie
Tony Roberts .... Dick Christie
Jerry Lacy .... Humphrey Bogart
Susan Anspach .... Nancy Felix
Jennifer Salt .... Sharon Lake
Joy Bang .... Julie
Viva .... Jennifer
Susanne Zenor .... Discotheque Girl (as Suzanne Zenor)
Michael Greene .... Hood #1
Ted Markland .... Hood #2
Film Remarks 4.5 out of 5 stars
Play It Again, Woody
Reviewer:

Sam Sutherland

January 15, 2007
Written for the stage and coherently opened up for the screen by veteran director Herbert Ross,
Play It Again, Sam
is closer to a conventional comedy than Woody Allen's more self-contained films, but his smart script and archetypal hero-nebbish achieve a special charm aimed squarely at movie buffs, which persists to today. Rick Moranis wrote this film prominently into a famous spoof as a "movie of the week" for the SCTV television series called
Play It Again, Bob
.
Allen is Allan Felix, a film critic on the rebound after his wife's desertion trying to brave the choppy waters of born-again bachelorhood and struggling to reconcile his celluloid obsessions with the hazards of real-world dating. His apartment is a shrine to Humphrey Bogart from
Casablanca
, and it's none other than Bogey himself who materializes at strategic moments to counsel Allan on romantic strategy. He gets more corporeal aid from his married friends, Linda (Diane Keaton) and Dick (Tony Roberts), who try to orchestrate prospective matches and reassure him when those chemistry experiments explode.
When Allan finds himself falling in love with Linda, the dissonance between fantasy and reality proves both funny and poignant--a precursor to the deeper emotionalism missing from the star's earlier directorial efforts that was soon to inform Allen's most affecting '70s comedies. It's also the start of his onscreen relationship with Keaton, further underscoring Allen's evolution toward a more satisfying contemplation of the friction between head and heart.
Trivia for Play It Again, Sam. Many folks know that this was Diane Keaton's first film with Woody Allen, but did you also know....
Release Date: May 4, 1972 (USA), December 16, 1972 (Sweden), December 22, 1972 (Finland), January 15, 1973 (Spain), April 19, 1973 (West Germany)
Movie Store


Buy The DVD Now - USA



Buy VHS Now - USA


Soundtrack Information
Song titles and information on music from Play It Again, Sam


Website Specials


Woody Allen DVD Collections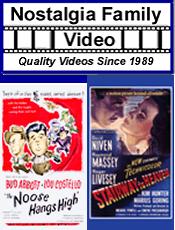 Order a Nostalgia Family Video Catalog from Catalogs.com