"My one regret in life is that I am not someone else. " - Woody Allen

Woody Allen's Other Works
Books, essays, scripts, plays

News & Website Updates





Shop for juicers at
BetterJuice.Com
Contents
Trivia from
Sleeper
Woody Allen confirmed the scientific feasibility of his screenplay ideas in a single lunchtime meeting with Isaac Asimov.
The rebels' anthem is the same one used in Bananas (1971).
The voice of the evil computer is that of Douglas Rain, parodying his role as the voice of HAL in 2001: A Space Odyssey (1968).
The exteriors for the beige building in which Woody Allen's character lives (and where the nose is destroyed) were shot at the National Center for Atmospheric Research (NCAR) Foothils Laboratory in Boulder, Colorado, USA.
The device used to give injections is actually a "desoldering vacuum" (used for disassembling electronic components) that has been painted white.
Director Trademark: [Woody Allen] [writer] Luna is a poet.
Woody Allen originally intended the film to be three hours long, and in two parts. The first part would have him in the present day, coping with life, until his illness. And the second half, would be the futuristic part. But, United Artists rejected this concept.
Loosely based on the classic science fiction novel "When The Sleeper Wakes" by H. G. Wells.
Revealing mistakes: The tow cable for the raft costume is visible.
Boom mike visible: While Woody is describing the artifacts from the 1970s.
The network television version cuts the scene when Miles and Luna discover a 1990's newspaper with the headline "Pope's Wife Gives Birth to Twins".
Movie Store


Buy The DVD Now - USA



<!A HREF="http://www.amazon.com/exec/obidos/ASIN/6303430546/ref=nosim/texascooking5-20" target="_blank" class="right2">Buy VHS Now - USA


Website Specials


Woody Allen DVD Collections

Woody Allen France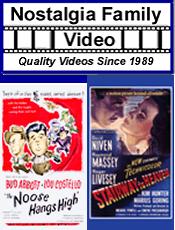 Order a Nostalgia Family Video Catalog from Catalogs.com