"My one regret in life is that I am not someone else. " - Woody Allen

Woody Allen's Other Works
Books, essays, scripts, plays

News & Website Updates





Shop for juicers at
BetterJuice.Com
Contents
Trivia from
Purple Rose of Cairo
Michael Keaton was originally cast in the lead role, and footage was shot. Director Woody Allen decided it wasn't working, and replaced Keaton with Jeff Daniels.
Woody Allen has said more than once that this is his favorite of the movies he's made.
Jeff Daniels opened a playhouse in his hometown of Chelsea, Michigan called "The Purple Rose."
Allen was asked after the movie's first screening to change the ending to a happy one. He declined because it destroyed the point of the entire film.
Awards and Nominations
Academy Awards, USA
Year 1986
Nominated Oscar
Best Writing, Screenplay Written Directly for the Screen
Woody Allen
BAFTA Awards
Year 1986
Won BAFTA Film Award
Best Film
Robert Greenhut, Woody Allen
Won Best Original Screenplay
Woody Allen
Nominated BAFTA Film Award
Best Actress
Mia Farrow
Nominated Best Special Visual Effects
Bodil Awards
Year 1986
Won Bodil
Best Non-European Film (Bedste ikke-europæiske film)
Woody Allen (director)
Boston Society of Film Critics Awards
Year 1986
Won BSFC Award
Best Screenplay
Woody Allen
Cannes Film Festival
Year 1985
Won FIPRESCI Award
Woody Allen
Casting Society of America, USA
Year 1986
Nominated Artios
Best Casting for Feature Film, Comedy
Juliet Taylor
César Awards, France Year 1986
Won César Best Foreign Film (Meilleur film étranger)
Woody Allen
French Syndicate of Cinema Critics
Year 1986
Won Critics Award
Best Foreign Film
Woody Allen, USA.
Golden Globes, USA
Year 1986
Won Golden Globe
Best Screenplay - Motion Picture
Woody Allen
Nominated Golden Globe
Best Motion Picture - Comedy/Musical
Nominated Best Performance by an Actor in a Motion Picture - Comedy/Musical Jeff Daniels
Nominated Best Performance by an Actress in a Motion Picture - Comedy/Musical
Mia Farrow
London Critics Circle Film Awards
Year 1986
Won ALFS Award
Film of the Year
New York Film Critics Circle Awards
Year 1985
Won NYFCC Award
Best Screenplay
Woody Allen
Writers Guild of America, USA
Year 1986
Nominated WGA Award (Screen)
Best Screenplay Written Directly for the Screen
Woody Allen
Movie Store


Buy The DVD Now - USA



<!A HREF="http://www.amazon.com/exec/obidos/ASIN/6303430546/ref=nosim/texascooking5-20" target="_blank" class="right2">Buy VHS Now - USA


Website Specials


Woody Allen DVD Collections

Woody Allen France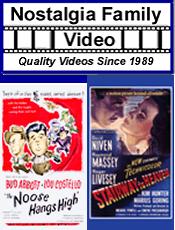 Order a Nostalgia Family Video Catalog from Catalogs.com