"My one regret in life is that I am not someone else. " - Woody Allen

Woody Allen's Other Works
Books, essays, scripts, plays

News & Website Updates





Shop for juicers at
BetterJuice.Com
Music Credits and Soundtrack from
Purple Rose of Cairo

An outstanding soundtrack recording containing the music in The Purple Rose of Cairo was released on vinyl in 1985. Long out of print, collectible albums and cassettes can still commonly found in the Amazon marketplace.

Unfortunately, no compact disc or mp3 downloadable version has ever been released.
Cheek to Cheek
Written by Irving Berlin
Vocal by Fred Astaire
I Love My Baby, My Baby Loves Me
by Bud Green & Harry Warren
Alabamy Bound
by Ray Henderson, Buddy G. DeSylva & Bud Green
One Day at a Time
Written by Dick Hyman
Performed by Karen Akers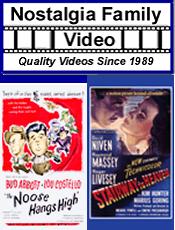 Order a Nostalgia Family Video Catalog from Catalogs.com

All materials, including our almanac and its contents are © 2012