Woody Allen's Other Works
Books, essays, scripts, plays

News & Website Updates







Woody Allen Movie Questions?

Woody Allen Movies
Promote Your Page Too
What's New, Pussycat? - 1965
Quoi de neuf, Pussycat?
Was gibt's Neues, Pussy?
Genre:
Comedy
Run Time:
108 minutes
Film Synopsis
Peter O'Toole plays a Don Juan who has women falling all over him. He gets plenty of sex out of it but is hounded by women wanting commitment. O'Toole tells all his problems to his therapist, Dr. Fassbinder, played by the brilliant Peter Sellers Of course, Dr. Fassbinder is a sex maniac.
Meanwhile, Allen himself has a minor role as Sellers' friend, who is in love with Romy Schneider, one of the women who wants Sellers to marry her. So Sellers, Allen and O'Toole all want Prentiss, although all three of them lust after scores of other beautiful women over the course of the movie. Allen ends up with the usually-near nude Ursula Andress, who is described in the film as "a close personal friend of James Bond."
Main Cast

Peter Sellers .... Dr. Fritz Fassbender
Peter O'Toole .... Michael James
Romy Schneider .... Carole Werner
Capucine .... Renee Lefebvre
Paula Prentiss .... Liz Bien
Woody Allen .... Victor Skakapopulis
Ursula Andress .... Rita
Eddra Gale .... Anna Fassbender (as Edra Gale)
Katrin Schaake .... Jacqueline
Eléonore Hirt .... Mrs. Sylvia Werner
Jean Parédès .... Marcel
Jacques Balutin .... Etienne
Jess Hahn .... Mr. Werner
Howard Vernon .... Doctor
Michel Subor .... Philippe
Movie Remarks
3 out of 5 stars
Woody Allen's first movie screenplay.
Reviewer:

Lucas Everidge

September 20, 2010
What's New Pussycat
is a rich mix of swinging Sixties culture and contemporary lunacy served up in a Playboy Club cocktail by screenwriter Woody Allen. This actually was his very first film script, which ended up getting edited to pieces by director Clive Donner.
The film turns into a collection of truly beautiful people: Peter O'Toole in the lead role as a compulsive womanizer, who hopelessly torn between beauties Romy Schneider and Ursula Andress. Blowing the movie's hipness quotient off the scale is Peter Sellers who runs around as Dr. Fassbender, a living sixties cipher of Dr. Sigmund Freud.
Salted into what becomes a perpetually confused stew are several nice Burt Bacharach songs, notably the title sung by Welsh crooner Tom Jones which received an Academy Award nomination. The ingredients are there, but it's evident early on that there's not any chemistry. Actually on a certain level, it's all fun. (It certainly is better than
Casino Royale
.)
Watching this movie today it appears that no one seems really in control of the movie. Perhaps this makes it a perfect lens into Swinging Sixties London.
Many fans already know that this was Woody Allen's first film which he wrote. But did you also know....
Gross:
$8.7 million (rentals)
Release Date:
June 22, 1965 (USA), October 8, 1965 (West Germany) January 27, 1966 (Sweeden), January 14, 1966 (Finland)
Movie Store


Buy The DVD Now - USA




Soundtrack Information
Song titles and information on music from the film What's New, Pussycat?


Website Specials


Woody Allen DVD Collections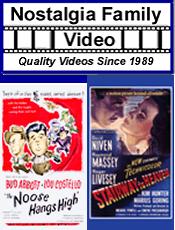 Order a Nostalgia Family Video Catalog from Catalogs.com