Charles K. Feldman's Casino Royale
Tagline:
Casino Royale is too much for one James Bond!
Genre:
Comedy
Run Time:
131 minutes
Film Remarks:
After the death of M, Sir James Bond (David Niven) is called back out of retirement to stop SMERSH and save the world. In order to fool SMERSH and Le Chiffre, Bond schemes the ultimate confusing plot device. Every agent will use the name James Bond.
One of the Bonds, whose real name is Evelyn Tremble (Peter Sellers) takes on Le Chiffre in a game of baccarat. In the course of the film, all the Bonds get more than they can handle, especially when the ultimate villain turns out to be Bond's nephew, Jimmy Bond, played by Woody Allen.
Main Cast

Peter Sellers ... Evelyn Tremble / James Bond / 007
Ursula Andress ... Vesper Lynd / 007
David Niven ... Sir James Bond
Orson Welles ... Le Chiffre
Joanna Pettet ... Mata Bond
Woody Allen ... Dr. Noah / Jimmy Bond
Deborah Kerr ... Agent Mimi / Lady Fiona McTarry
William Holden ... Ransome
Charles Boyer ... Le Grand
John Huston ... McTarry / M
George Raft ... Himself
Jean-Paul Belmondo ... French Legionnaire (as Jean Paul Belmondo)
Jacqueline Bisset ... Miss Goodthighs (as Jacky Bisset)
Anjelica Huston ... Agent Mimi's Hands (uncredited)
Caroline Munro ... Guard Girl (uncredited)
David Prowse ... Frankenstein's Creature (uncredited)
Peter O'Toole ... Piper (uncredited)
Movie Remarks
3 out of 5 stars
Woody Allen plays the villain in this James Bond film.
Reviewer:

Lucas Everidge

May 10, 2010
Casino Royale
not a directed-by, written-by Woody Allen film. But the 1968 farce is still universally known as the James Bond movie where Woody Allen plays the villain. The chaotic story and pacing of the film is understandable after seeing that five different directors are listed in the film credits.
Extremely silly, this movie is actually worth watching for the sixties nostalgia, the music, and the collection of actors and actresses who would never appear together in film again. Peter Sellers and Usula Andress appeared with Allen in
What's New, Pussycat?
two years earlier, a film that Allen had significantly more creative input into, and compared to Casino Royale looks seemingly tame.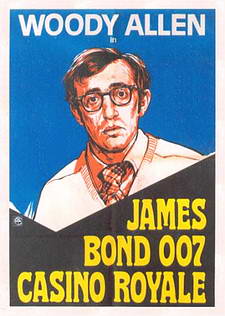 Many fans already know that Woody Allen contributed to the film's script, along with many others. But did you also know....
Budget: $12,000,000 (estimated)

Gross:
$22.744 million (USA), $41.75 million (Worldwide), $11.4 million rentals (USA), $18.4 million rentals (Worldwide)
Release Date:
April 13, 1967 (London premiere), April 19, 1967 (USA), September 8, 1967 (Australia), December 21, 1967 (West Germany) December 22, 1967 (Sweeden)