Ponto Final
Tagline:
Passion Temptation Obsession
Genre:
Drama
Run Time:
124 minutes
Film Synopsis

Woody Allen emerged from the moviemaking wilderness in 2005 with his cool, elegant thriller Match Point. The movie is a modern retelling of American literature classic A Place in the Sun by Theodore Dreiser.
Filmed in London with many British actors, the film had a fresh, clear vitality which had become submerged in recent years. Rhys-Meyers supurbly plays an ex pro tennis player who leaves his poor Irish background to climb London society circles.
Scarlett Johansson debuts in Match Point as well, going on to become Allen's female favorite lead for a new slate of movies.
Main Cast

Jonathan Rhys Meyers .... Chris Wilton
Alexander Armstrong .... Mr. Townsend
Paul Kaye .... Estate Agent
Matthew Goode .... Tom Hewett
Brian Cox .... Alec Hewett
Penelope Wilton .... Eleanor Hewett
Emily Mortimer .... Chloe Hewett Wilton
Scarlett Johansson .... Nola Rice
Simon Kunz .... Rod Carver
Film Remarks
4 out of 5 stars
Woody Allen catches lightening in a bottle in this dark film.
Reviewer:

Lucas Everidge

July 20, 2009
The passion of mad love and the cold calculations of social climbing collide in Woody Allen's
Match Point
. Former tennis pro Chris Wilton (Jonathan Rhys-Meyers) stumbles into good fortune when Chloe Hewett, the daughter of a wealthy businessman, falls in love with him. But when Chris meets Nola Rice (Scarlett Johansson), a much deeper passion is stirred--and his desire isn't deterred when he discovers that Nola is already dating Chloe's brother. But when their affair threatens Chris's increasingly cozy lifestyle, Chris begins to consider a drastic solution.
Match Point
starts deftly and ends with cunning.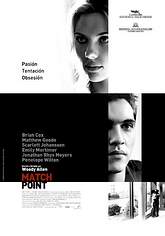 Trivia for Match Point. You may have known that Match Point was Woody Allen's first movie filmed entirely in England, but did you also know...
Additional
Budget: $15m (USA)

Gross:
$23m (USA), £1,9 (UK), €4.0 (DE), €9.1 (IT)
Release Date:
May 12, 2005 (Cannes Film Festival), Nov 2, 2005 (USA), January 13, 2006 (Italy), October 26, 2005 (France), November 4, 2003 (Spain), November 9, 2005 (Belgium)