"Annie, there's a big lobster behind the refrigerator." - Woody Allen from Annie Hall (1977)

Woody Allen's Other Works
Books, essays, scripts, plays

News & Website Updates





Shop for juicers at
BetterJuice.Com
Contents
Trivia from
Small Time Crooks
Allen places a large gumball machine in one of the opening scenes to create a link between his character, Winkler, and fellow inept criminal Virgil Starkwell from Take the Money and Run.
This was Woody Allen's first movie for DreamWorks Pictures, with whom he signed a five film deal.
Revealing mistakes: When Denny, Ray, Tommy and Benny first begin digging the tunnel, while discussing who can use the drill, Denny calls Ray (played by Woody Allen) Woody.
Continuity: When Ray and Frenchie are on the roof top discussing the wisdom of proceeding with his plan, the sun is about two thirds above the horizon. Two lines, and three seconds later, the sun is gone.
Factual Errors: The box of "elgian" chocolates in the opening scenes is clearly a box of Perugina chocolates, an Italian brand.
Awards and Nominations
American Comedy Awards, USA
Year 2001 - Result Award Category/Recipient
Nominated American Comedy Award Funniest Actress in a Motion Picture (Leading Role)
Tracey Ullman
Golden Globes, USA
Year 2001 - Result Award Category/Recipient
Nominated Golden Globe Best Performance by an Actress in a Motion Picture - Comedy/Musical
Tracey Ullman
National Society of Film Critics Awards, USA
Year 2001 - Result Award Category/Recipient
Won NSFC Award Best Supporting Actress
Elaine May
Online Film Critics Society Awards
Year 2001 - Result Award Category/Recipient
Nominated OFCS Award Best Supporting Actress
Elaine May
Website Specials


Woody Allen DVD Collections

Woody Allen France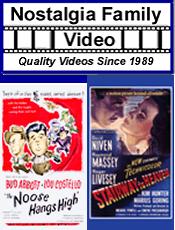 Order a Nostalgia Family Video Catalog from Catalogs.com