"My one regret in life is that I am not someone else. " - Woody Allen

Woody Allen's Other Works
Books, essays, scripts, plays

News & Website Updates





Shop for juicers at
BetterJuice.Com
Contents
Trivia from
Shadows and Fog
Based on a one-act comedy play called "Death", published in Woody Allen's Without Feathers (1972), the play and movie are themselves a pastiche of Franz Josef Kafka's work in general, and of his novel "The Trial" in particular.
After the filming was completed, Donald Pleasence was flown from California to reshoot his scenes with a new supporting cast. And then his name was misspelled in the film credits.
Shadows and Fog marks one of Woody Allen's frequent returns to the use of magic and magical realism in his movies.
Awards and Nominations
Italian National Syndicate of Film Journalists
Year 1993
Won Silver Ribbon
Best Cinematography (Migliore Fotografia)
Carlo Di Palma
Movie Store


Buy The DVD Now - USA



Buy VHS Now - USA


Website Specials


Woody Allen DVD Collections

Woody Allen France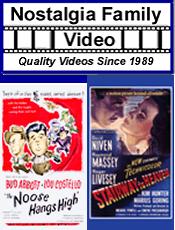 Order a Nostalgia Family Video Catalog from Catalogs.com