"My one regret in life is that I am not someone else. " - Woody Allen

Woody Allen's Other Works
Books, essays, scripts, plays

News & Website Updates





Shop for juicers at
BetterJuice.Com
Contents
Trivia from
September
Director Woody Allen cast and shot this film twice, without telling the original cast. Woody Allen decided to make the film for two main reasons. One was because he had always wanted to do a "chamber piece", a film with a small cast (there are only six principal characters, and only nine in the entire film) in a single location.

The other was for the location itself, Mia Farrow's Connecticut country house, which inspired Woody Allen to write the screenplay with the intention that it would be shot at the house. Unfortunately, by the time Allen finished the screenplay, it was winter and the location was unusable for a movie so firmly planted in September. The entire movie (which takes place in Vermont) was shot on a single soundstage at the Kaufman Astoria Studios in New York.

In the re-shot version, Maureen O'Sullivan, Charles Durning and Sam Shepard were replaced by Elaine Stritch, Denholm Elliott and Sam Waterston respectively.
In addition to these replacements, there was one more that did not even make it through an entire shooting. At the very beginning of shooting, Christopher Walken played the role of Peter but Allen only shot a few scenes with him before he decided that he was wrong for the part. Walken was replaced by Sam Shepard who, in turn, was later replaced by Sam Waterston.
Gina Rowlands turned down the role of Diane, the mother because she felt the showbiz character would be too much of a stretch for her to portray.
Continuity goof: Peter's tie when talking to Lloyd.
Awards & Nominations
Movie Store


Buy The DVD Now - USA



Buy VHS Now - USA


Website Specials


Woody Allen DVD Collections

Woody Allen France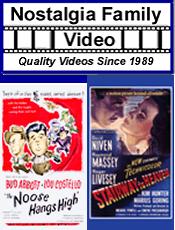 Order a Nostalgia Family Video Catalog from Catalogs.com