"Annie, there's a big lobster behind the refrigerator." from Annie Hall (1977)

Woody Allen's Other Works
Books, essays, scripts, plays

News & Website Updates





Shop for juicers at
BetterJuice.Com



Contents

Trivia from

Love and Death

The wheat scene with towards the end of the film is a direct visual parody of Ingmar Bergman's classic Persona (1966). The juxtaposition of faces is an homage to Bergman's trademark shots.
The soundtrack was originally scored with the music of Stravinsky.
The shots of the lion statues edited into the love scene between Boris and the Countess are parodies of similar statues in Bronenosets Potyomkin (1925), shown during the Odessa Steps massacre scene.
Movie Store


Buy The DVD Now - USA



<!A HREF="http://www.amazon.com/exec/obidos/ASIN/6303430546/ref=nosim/texascooking5-20" target="_blank" class="right2">Buy VHS Now - USA


Website Specials


Woody Allen DVD Collections

Woody Allen France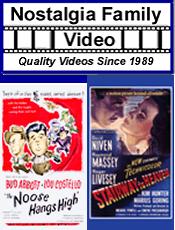 Order a Nostalgia Family Video Catalog from Catalogs.com