"My one regret in life is that I am not someone else. " - Woody Allen

Woody Allen's Other Works
Books, essays, scripts, plays

News & Website Updates





Shop for juicers at
BetterJuice.Com
Love, Sex, Death, and the Meaning of Life:
The Films of Woody Allen
Book by Foster Hirsch

This best so-far Woody Allen biography is filled with frank and enlightening discussion.
Please select edition to check the price:
Softcover Book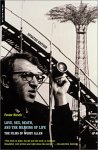 Softcover Book (July 3, 2001)
Publisher: DaCapo Press
ISBN: 0306810174

Woody Allen has carved out a unique place for himself in American movies, becoming our national auteur as well as the most prolific director in the country, and creating a singular world with each film he has released since his first movie in 1969. Foster Hirsch analyzes and celebrates that world in this expert study of the themes, visual style, and acting in each of Allen's films. With the addition of a new introduction and chapter covering the eleven movies Allen has made in the last decade, from Alice to The Curse of the Jade Scorpion, this is a vital book for Allen fans and students of film alike.

A professor of Film at Brooklyn College, Foster Hirsch is the author of fifteen books on film and theater, including the classic The Dark Side of the Screen: Film Noir. He lives in New York City.

All materials, including our almanac and its contents are © 2012