"My one regret in life is that I am not someone else. " - Woody Allen

Woody Allen's Other Works
Books, essays, scripts, plays

News & Website Updates





Shop for juicers at
BetterJuice.Com
Front Page - News

Woody Allen recognized at San Sebastian Film Festival
by Lucas Everidge - September 30, 2004


San Sebastian, Spain - On Friday, Sept. 17, infamous moviemaker Woody Allen received the coveted Donostia prize, a lifetime achievement award at the 52nd annual San Sebastian Film Festival.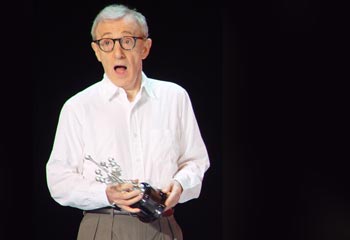 Spanish director Pedro Almodovar awarded the prize to the 68-year-old filmmaker. Upon receiving the award, Allen admitted that he felt it was undeserved, reports Reuters.

"When they told me ... they wanted to give me a lifetime achievement award I felt I should not really accept because you know, after all, what have I actually achieved?" he says. "I'm not a scientist or a doctor who has discovered some great cure and then I thought about my films and I thought that actually they were a cure for insomnia and I thought that I could accept the award in all conscience."

Allen's latest film, Melinda and Melinda, made its world premiere at the festival. The tragi-comedy stars Radha Mitchell, Will Ferrell, Vinessa Shaw, Jonny Lee Miller, Chiwetel Ejiofor and Josh Brolin.

Even though Allen's films usually combine both comedy and drama, the director admits that he usually only sees the dark side of life. "I have a extremely pessimistic outlook," Allen said. "To me the glass is always empty, not half empty, but completely empty ... For me it's tragic or extremely tragic."

Allen is currently working in England filming a summer project starring Scarlett Johansson, Jonathan Rhys-Meyers, Emily Mortimer and Brian Cox.

Pedro Almodovar presents the Donostia prize to Woody Allen
Website Specials


Woody Allen DVD Collections

Woody Allen France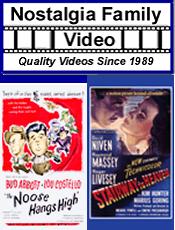 Order a Nostalgia Family Video Catalog from Catalogs.com
All materials on woodyallenmovies.com are © 2012 Mesquite Management, Inc.