by Lucas Everidge - August 30, 2003
(Venice, Italy) - Notoriously press-shy Woody Allen is finally showing his face at the Venice Film Festival, where his new comedy Anything Else has kicked off the 60th edition.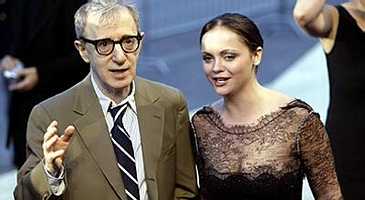 Allen and Christina Ricci at the Venice Film Festival
"There's great wisdom in jokes," Allen tells his young protege Jason Biggs as the camera sweeps across New York's Central Park in the opening scene. And movie-goers flooding the lagoon city for the world premiere on Wednesday tended to agree.
"We're back to the good old Woody Allen," one film critic said after the press preview. "It's better than going into the festival with a hard-hitting film, and he's such a legend."
Woody Allen disagrees with those who think he's a Hollywood legend. The director and actor famed for playing neurotic characters said Tuesday that his star power is far greater outside the United States and that few up-and-coming American filmmakers want to emulate him.
"In my country I have a small, loyal following - very loyal, very small," said Allen recently. "By most people in the United States I am very reluctantly acknowledged as someone who has been around for a long time and they frankly can't understand what the fuss is about - when there's a fuss."
In Europe, Allen is revered. Europeans admire the intellectual nature of his films. His dark humor and psychological themes fit well with local cinematic genres.
Anything Else is one of 145 titles showing this year at the world's oldest film festival. But it is not among 20 vying for the festival's Golden Lion, to be awarded on September 6.
"I've always been invited but I've always made excuses. I felt I just owed it to the Italian people to come and participate," Allen, 67, said.
The American director and his cast, including Biggs, Christina Ricci and Danny DeVito, trod the red carpet for a gala screening on the Lido. In his new film, Allen relinquishes the leading man role to Biggs (American Pie), who plays Jerry Falk, an aspiring comedy writer madly in love with neurotic Amanda, played by Ricci.
In typical Allen fashion, Amanda falls for Jerry but soon discovers she can have sex only with other men.
"They make me look good," Allen said of his young cast. "They think I'm making a big contribution; in fact, my big contribution is casting and then getting out of their way."
Allen plays Dobel, an ageing, paranoid mentor to Jerry who is obsessed with self-defence and imaginary anti-Semitic plots - a man Allen says reflects the growing tensions felt in the world today and who brings a hint of seriousness to the film. "There are some particularly paranoid characters in the film," explained Allen. "But our world is in a particularly tense state at the moment and the characters are a result of that danger and paranoia."
"The film is microcosmic to some of the problems that have happened to Israel," he said.
Biggs and Ricci, who previously teamed up on "Prozac Nation," displayed to-be-expected giddiness today while flanking Allen in Lido's Grand Casino.
"We were so nervous to work with Woody," Biggs admitted. "You know, he can be brutally honest and he doesn't always package his criticism in a nice fluffy package. Sometimes his comments are tongue-in-cheek and other times you're hoping that they were tongue-in-cheek."
Allen spoke gowingly of the two younger actors. "I have always wanted to work with Christina and when I saw a clip of Jason's work I loved him instantly," explained Allen. "I always work with first-rate actors. They always think I'm making a big contribution, but my biggest talent is actually my casting."
Italian journalists were eager to get a statement from Allen regarding the candidacy of actor Arnold Schwartzenegger for Governor of California. Allen said cautiously, "There's no doubt that Arnold is a very likeable guy. But with all of the problems facing California, it's hard to imagine someone with zero political experience could make a difference. But you never know. I'm sure his heart is in the right place."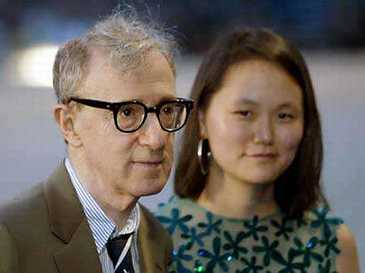 Director Woody Allen and his wife Soon Yi arrive at the Venice Movie Palace August 27, 2003